About Dopplers
Dopplers, founded by Astrid Vang-Pedersen in 2009, is an a cappella group of twelve vocalists originating from Copenhagen, Denmark.

What sets Dopplers apart from other a cappella groups is first and foremost the fact that they sing all of their music, which is in large part music based on grooves, pulses and beats, without microphones. Choosing not to use a traditional beat boxer to provide vocal percussion they employ the unique approach of incorporating the feel of an underlying beat and percussion into all the vocal melody lines that make up the underlying accompaniment of a song.
That being said you will also be able to find beautiful songs with next to no melodic percussion and of an almost classical nature within the Dopplers-repertoire, which exists within a field of many genres such as pop, Nordic folk music, classical, Middle-Eastern and afro-pop and recently also numerous original songs written by members of the group.

Another compelling characteristic of Dopplers is the imaginative adaptation of performance during the live performances of their music as they recognize that every performance is as much of a visual experience as it is a musical one. Dopplers is continually striving toward being bigger and better than their last performance and for this reason they have work shopped with many guest teachers such as Anders Edenroth, Anne Rosing, Jim Daus Hjernøe, Lene Nørgaard, Lone Larsen and Peder Karlsson who are all extraordinary performers and teachers and who have provided the group with new tools to further improve distinct features of their musical and performance skills.

In January 2015 Dopplers released their very first EP featuring music written and/or arranged by members of the group. This is a huge milestone for Dopplers as this EP represents their first steps on a journey of self-discovery and establishment of their own unique style and sound. They are constantly evolving and are excited to see how far this journey will take them and they encourage all fans and friends of Dopplers to join them for the ride!
Astrid Vang-Pedersen is a choral conductor and performance designer. She has developed a specific method on staging choral performance, called Concert Design, and is currently working on her thesis on the subject of innovating classical concerts in collaboration with The Royal Danish Academy of Music and Roskilde University.

She conducts two vocal ensembles: Dopplers (www.dopplers.dk) and Papaya (www.papaya.dk), both focusing on embodied, theatrical and communicative performance of vocal music, while she also facilitates workshops on the subject, teaches choral conducting freelance and composes music for choirs and theater productions. Astrid and Dopplers have been selected to participate in the World Symposium on Choral Music in Barcelona 2017.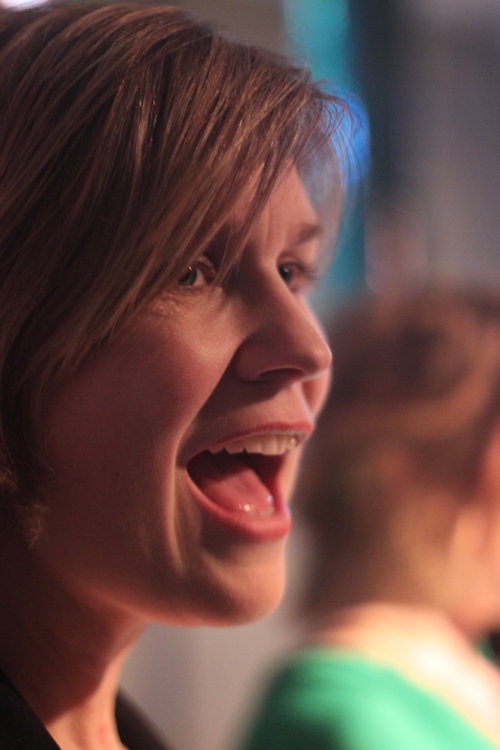 Foto: Inger Kirkeby