News
28.06.2023
Christmas in June
Ok, so we admit, that singing christmas songs during summer time feels a little weird. Nonetheless, that's what we currently are working on - a Christmas EP project. Since we are creating and composing the music ourselves, it doesn't feel so christmas'sy.
We will inform as much as we can once we come closer to the recording sessions. And of course again, when the sweet Christmas time arrives
---
20.12.2022
A little something...when we have something
We wanted to support the people of Ukraine, and luckily PostNord gave that opportunity by giving the shipment for free. Thank you PostNord!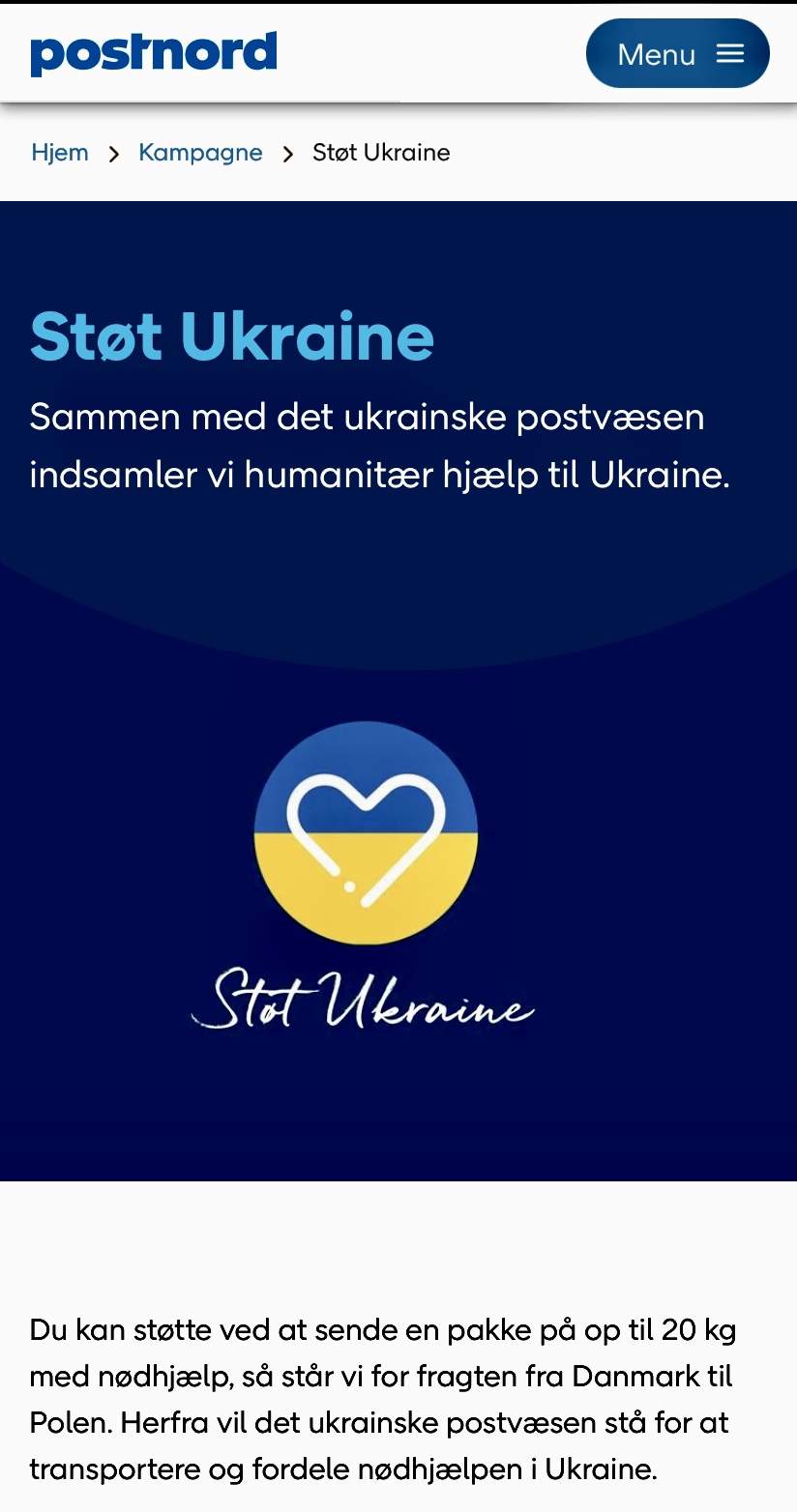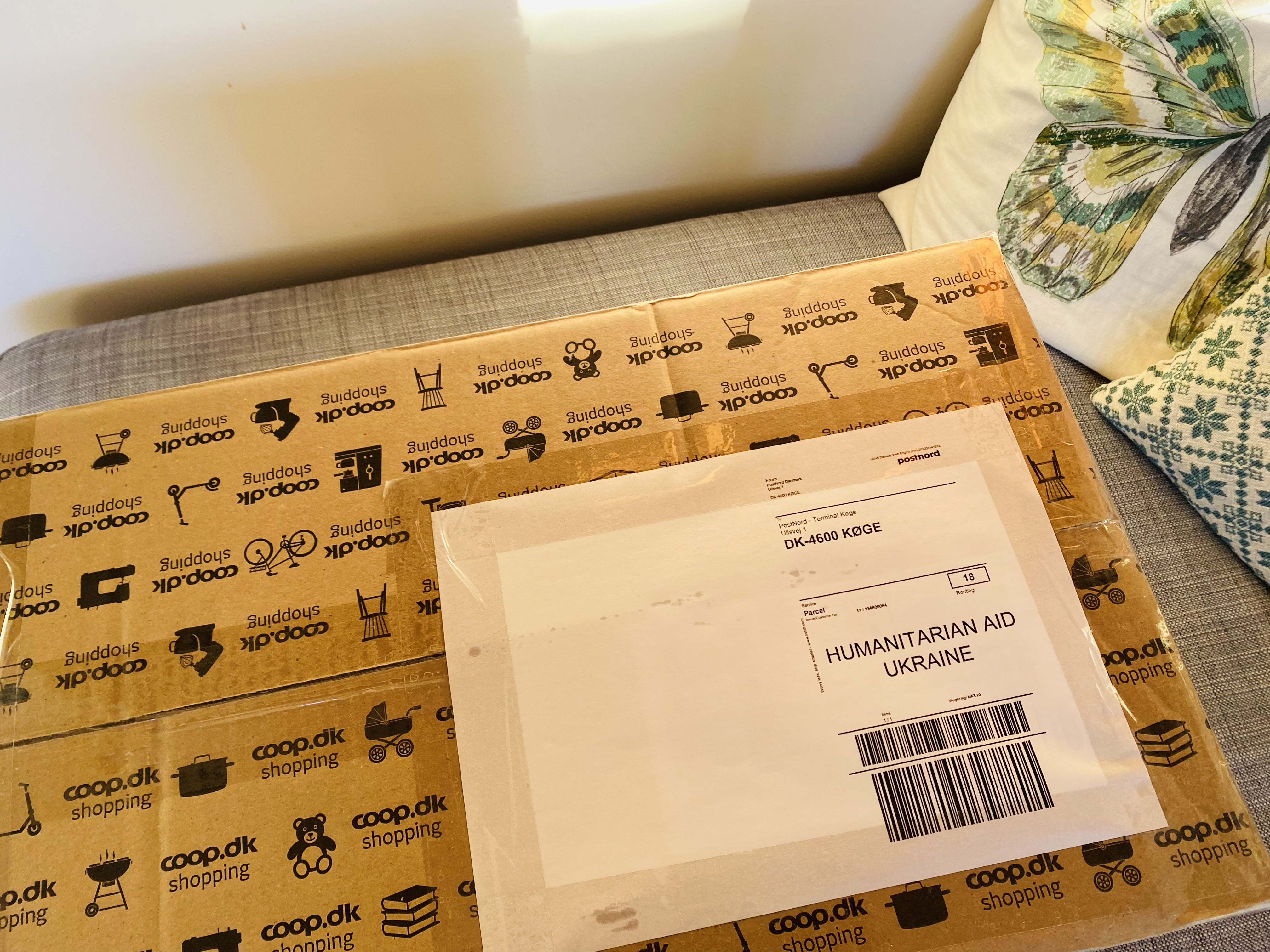 ---
23.08.2022
...and summer
And so has August almost become September. We went on a tour to the Faroe Islands; we had a beautiful summer concert in Lyngby. And we just returned from Bornholm and Sweden. Yes, indeed it is busy times. We always have new project in the pipeline, more concerts coming, and exciting news to share. Follow our facebook for day-to-day news.
Like us on Facebook
---
25.03.2022
Concert for Ukraine
We did a support concert for Ukraine in Sct. Pauls Church in Aarhus together with EVE.

Thank you for everyone who supported and donated. In total 11.470 kr. was donated to RØDE KORS


---
01.03.2022
NORD nominated for a CARA Award
We are pleased to announce, that NORD has been nominated in two categories: "Best Semi-Professional / Post-Collegiate Album or EP" and "Best Semi-Professional / Post-Collegiate Song with Seidamadei".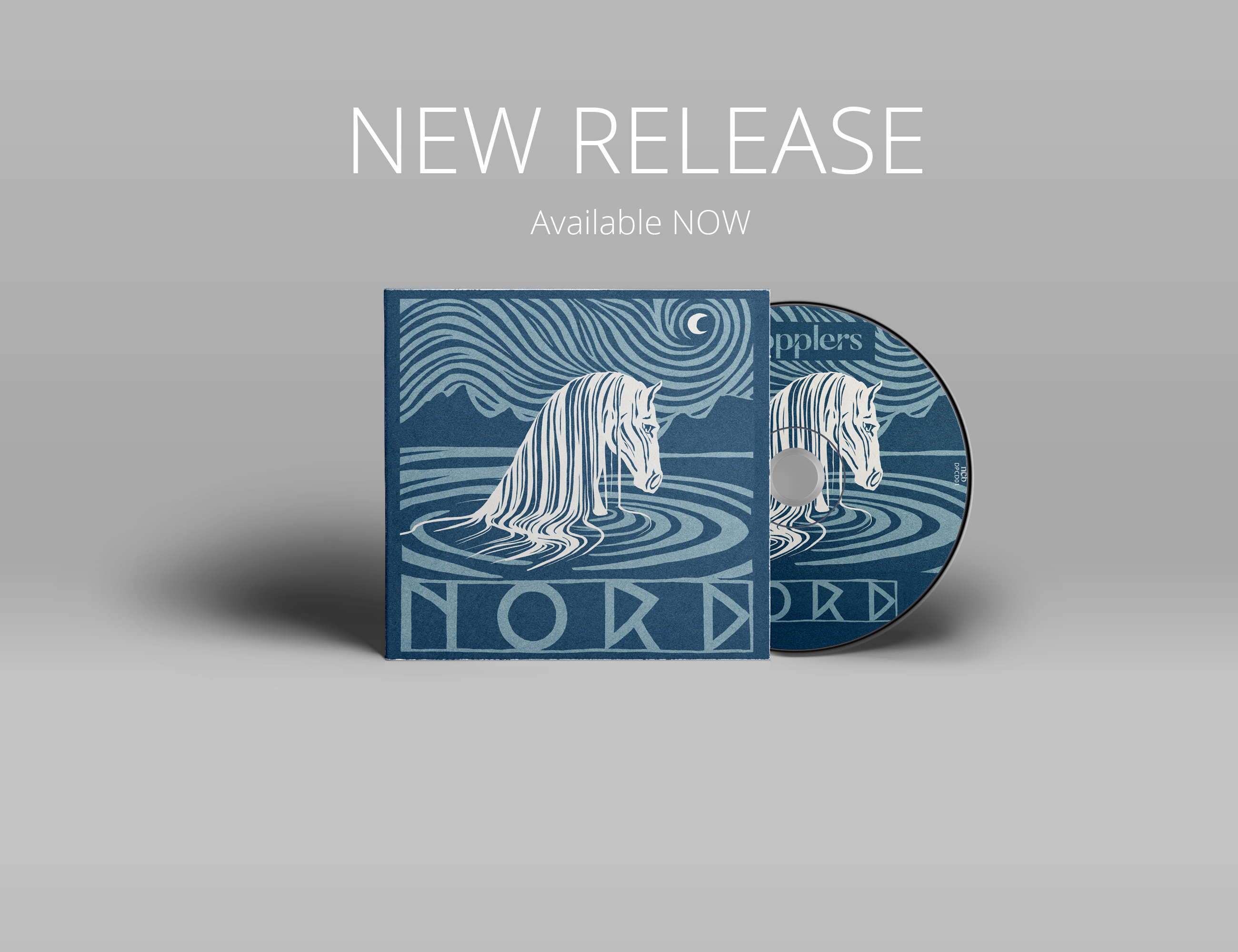 ---
15.02.2022
Det Brinner En Eld (SATB)
We are pleased to announce, that you can now purchase the sheet music for Det Brinner En Eld, found on Dopplers' latest release NORD. This is the first time we have made it possible to purchase the sheet music. The license is for 1 choir/group, and will be given as digital download
Go to Shop
---
06.10.2021
NORD - OUT NOW
The day is finally here!

We are thrilled to share Dopplers' NEW album NORD with you.
The album is available NOW on your preferred streaming platform. You can also purchase a physical copy here.

NORD is the groups first full-length album - a tale and soundscape of Nordic sound and seasons, representing natural elements such as water, fire, earth and air.

We hope you enjoy it!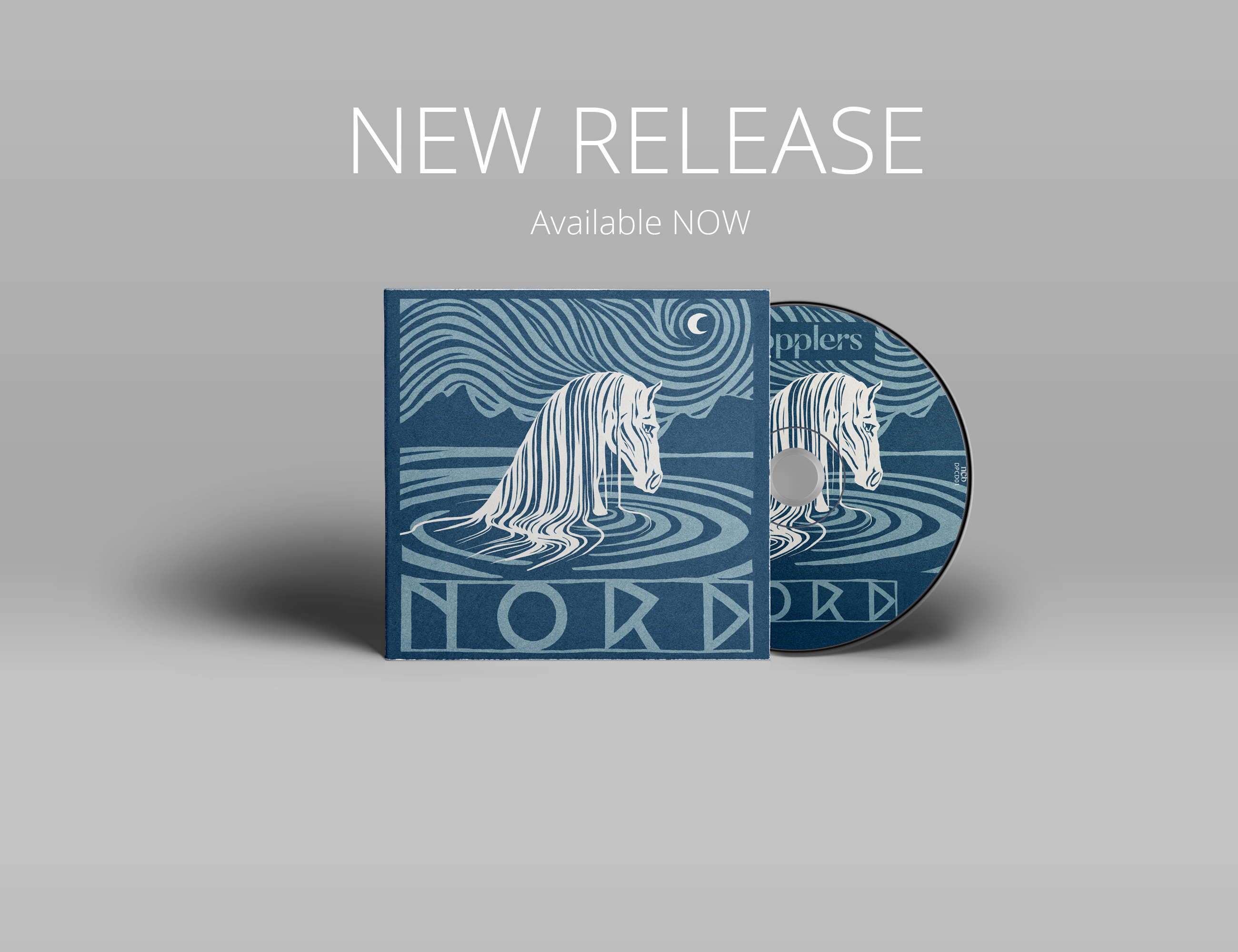 ---
07.09.2021
Our trip to Germany
We are beyond grateful for the opportunity to finally perform again in Germany. This time we were invited to share the stage in a project with amazing singers called "Voices of the North". Saturday we sang in Pirmasens and Sunday in Ingelheim together with our good friends from Singoritas.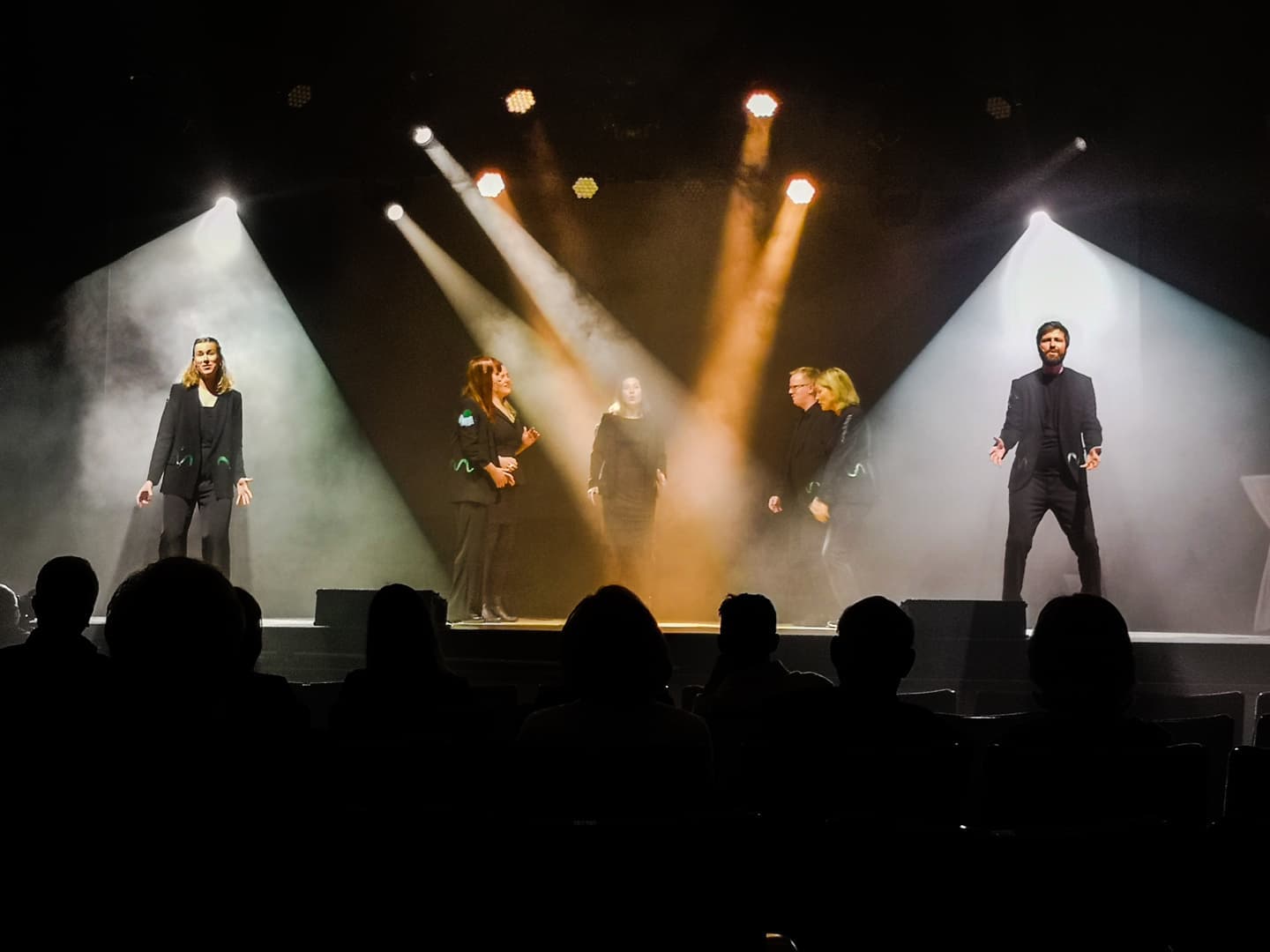 ---
23.07.2021
Release of Cover-art
You can now see what the cover will look like on our upcoming album NORD. It's been created by Faroese artist Heiðrik á Heygum.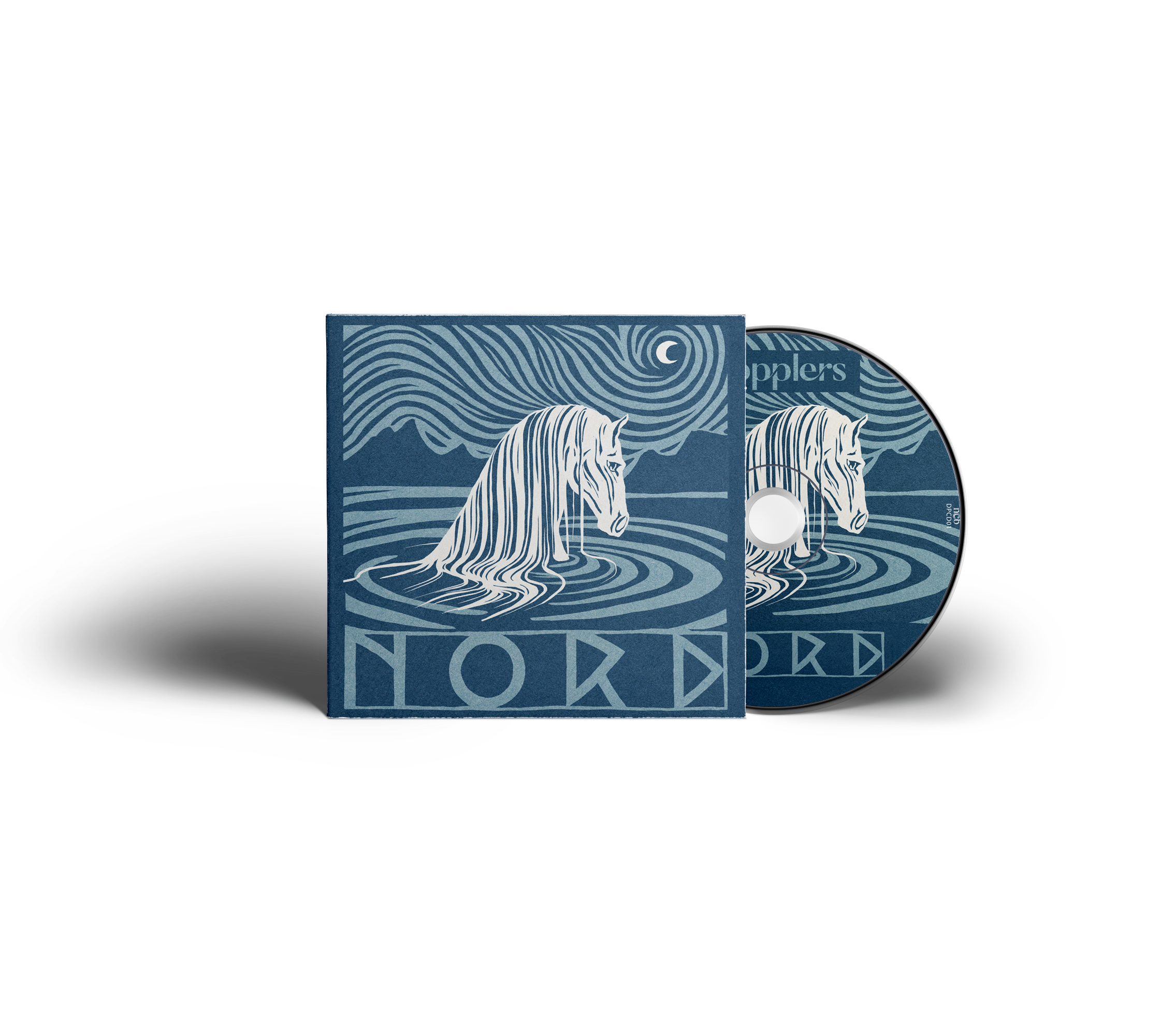 ---
21.05.2021
eAAVF - Online Festival
Dopplers took part in the Online Festival eAAVF this year. Due to Corona, Aarhus Vocal Festival had decided to create an online festival called "Reaching Out", where people from all around the world could "gather" and meet old friends online, while participating in online workshops, and following a LIVE STREAM of recorded concerts and talks. Dopplers participated with a short live concert part together with RAMA
---
26.04.2021
Studio-time part 3
Dopplers will go in to the studio to record the final 4 numbers for our upcoming album this coming weekend. This time a little different, as we will all be in the studio at the same time, recording it "live". We have teamed up with our good friend Frederik Rosenkjær-Wind and his studio in Nordsjælland.
---
30.03.2021
Interview with In Unison
Yesterday Astrid had the great pleasure of being interviewed by In Unison Podcast about her work with Concert Design, Dopplers, AAVF and Ubuntusong. We can't wait to share the episode with you, once it's ready.

Until then do check out the great work of In Unison Podcast here: inunisonpodcast.com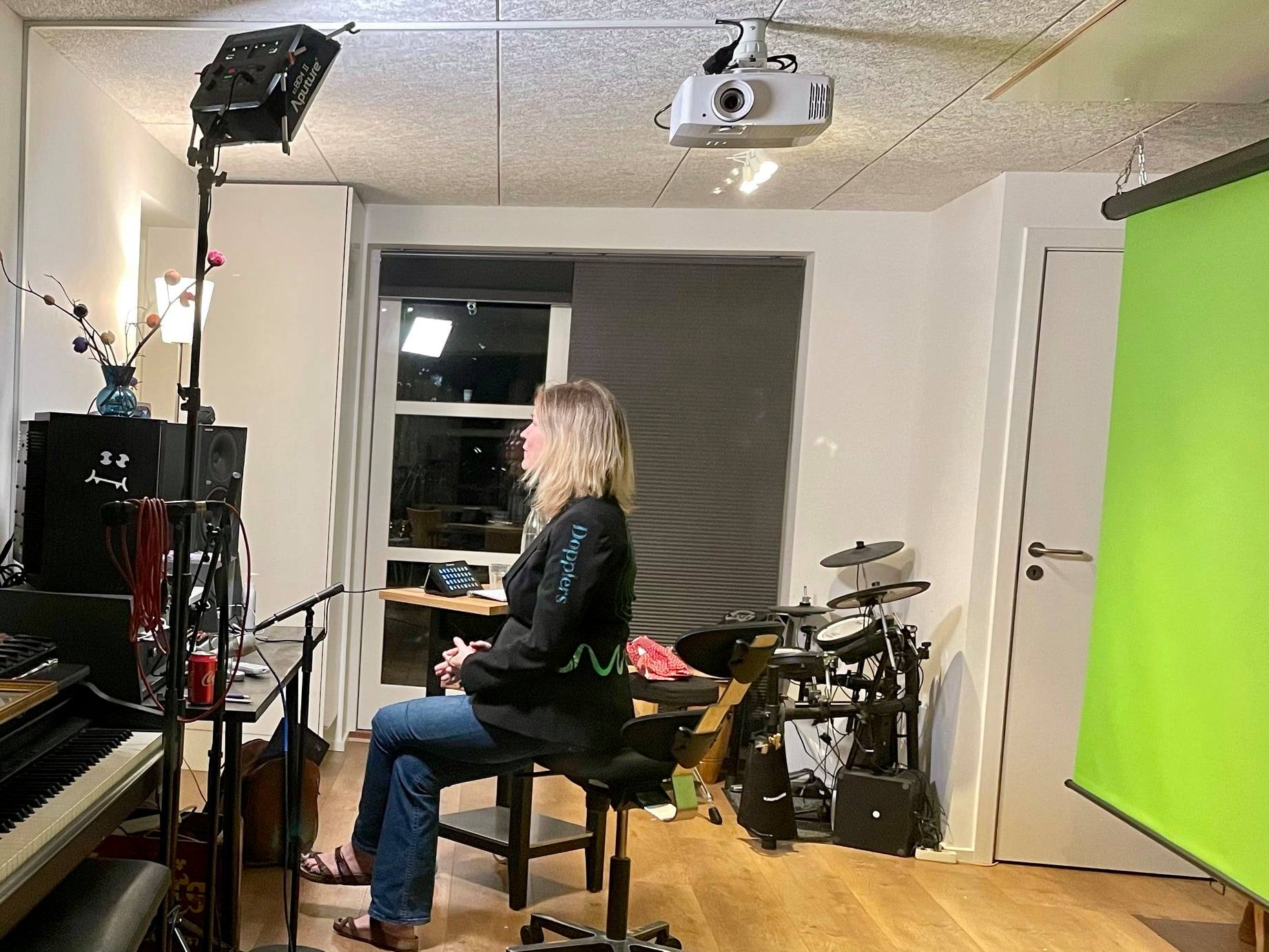 ---
15.03.2021
Studio-time part 2
Dopplers had a great time recording another 4 songs. This time in Casa Malling, which is Astrid and Jim's home, transformed in to a super studio. With those 4 songs also recorded, we only have one more studio session - then the raw recording is done.
---
30.08.2020
Studio-time
Dopplers has been in the studio just before summer-break to begin recording the first half of the upcoming album "NORD". The album will be recorded with the producer Henrik Birk Aaboe (who also produced our two EP's) in Corona Studio in Thorsoe

In the midst of recording, we will soon start a "pre-order" campaign for our new album, so that we can finish the other half in 2021.

We have also been filming a lot of video together with our friend Chad Charlton.
---
04.05.2020
Sheet Music for Colors of Peace
In celebration of the 75th anniversary of Denmark's freedom day, May 4th, - we have created a video celebration of peace featuring original footage from the liberation in Denmark and our original music - Colors of Peace.

Join us in celebrating the message of peace - light a candle and "let the music lead the way".

Download the musical arrangement for free (SSATTBB, SATB, SSA)
Download here
---
05.04.2020
We will be back soon!
Corona-Virus has certainly been in the absolute center of most people for the past weeks. We hope everybody is safe and take good care of themselves.
We of course have had a lot of our concerts postponed, including our first time ever in France that is now cancelled.

But nonetheless, we won't let that take us down. We have weekly meetings online and focus all our energy and time to new great projects, you hopefully will hear about soon.

//Dopplers
---
18.02.2020
2020 is a big year!
A big year is a head of us, and we have already startet. In January we had our traditional "På din hånd et fnug" concerts with pianist Cæcilie Tagmose, but also a few of our own concerts.
It was great to be out there performing again.

2020 will have a lot of exciting things happening, including concerts in Germany and France. Stay tuned for more on our Facebook and on our Concerts page here on Dopplers.dk
---
27.05.2019
Aarhus Vocal Festival 2019
We are thrilled and super excited to be part of this year Aarhus Vocal Festival. What's going on, where and when?
Friday we will sing a concert as part of AAVF SINGularities. The concert is called Ears Only - Concert in Darkness. Saturday we will be part of the main concert called "Elements of the North", together with Vocal Line, Club for Five, The Real Group, EVE, Frode Fjellheim, RAMA and many more.

Sunday it will be possible to experience Dopplers in the farewell concert called "Kiss and Goodbye".

See our events on Facebook here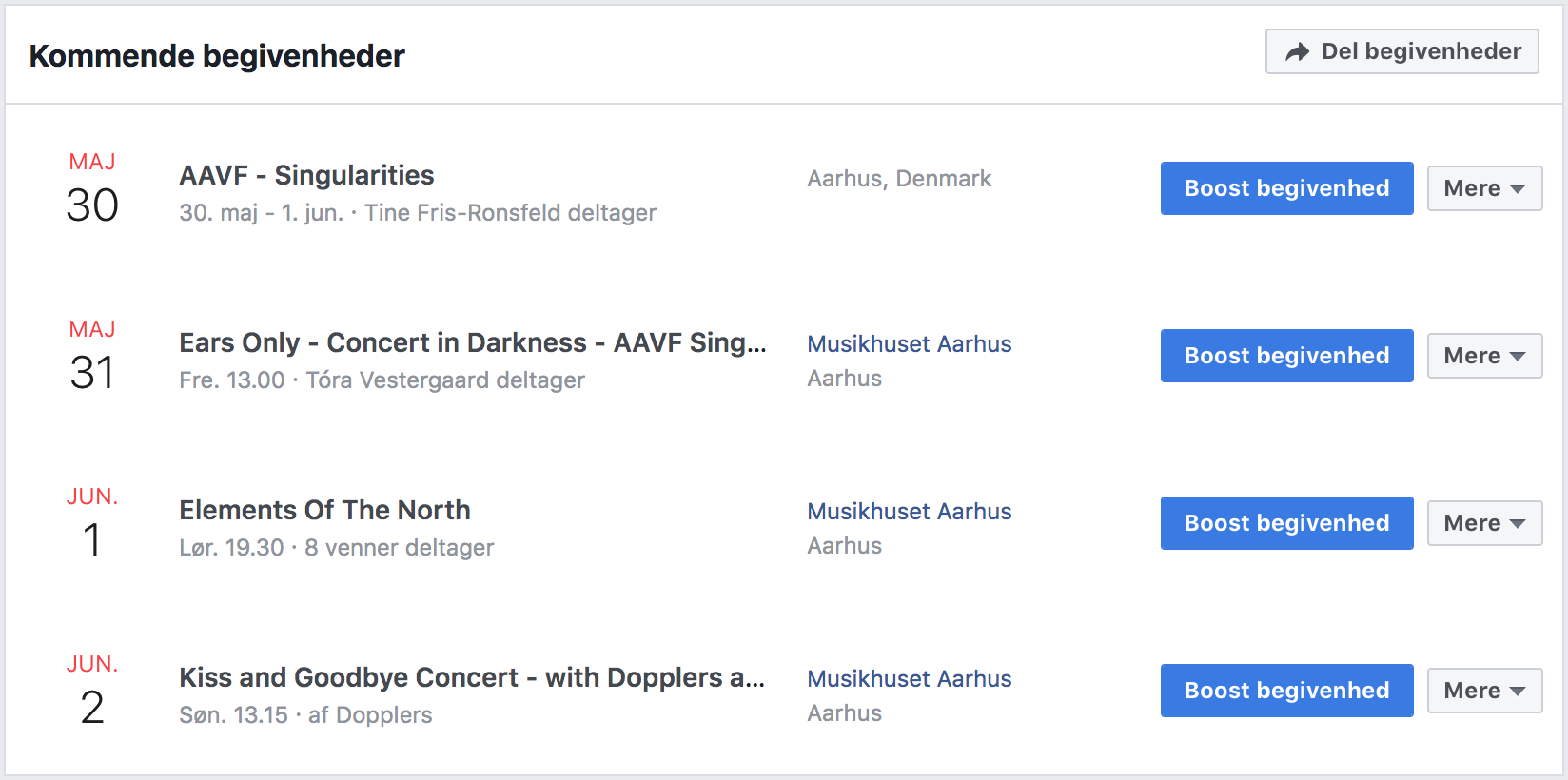 ---
17.01.2019
SingStrong Acapella Festival
Dopplers look forward to perform in the US for the very first time, attending the SingStrong Festival in Brooklyn, New York 8-10. february 2019.
Read more

---
02.01.2019
Happy New Year from Dopplers
---
30.11.2018
Music in the dark
As part of an project at University of Roskilde, 5 Leisure Management students had invited Dopplers to be part of a very special project called "Music in the dark". The event was a one-night-off event at BestTellers in Copenhagen. No one could know, that we were the singers - therefore no announcement.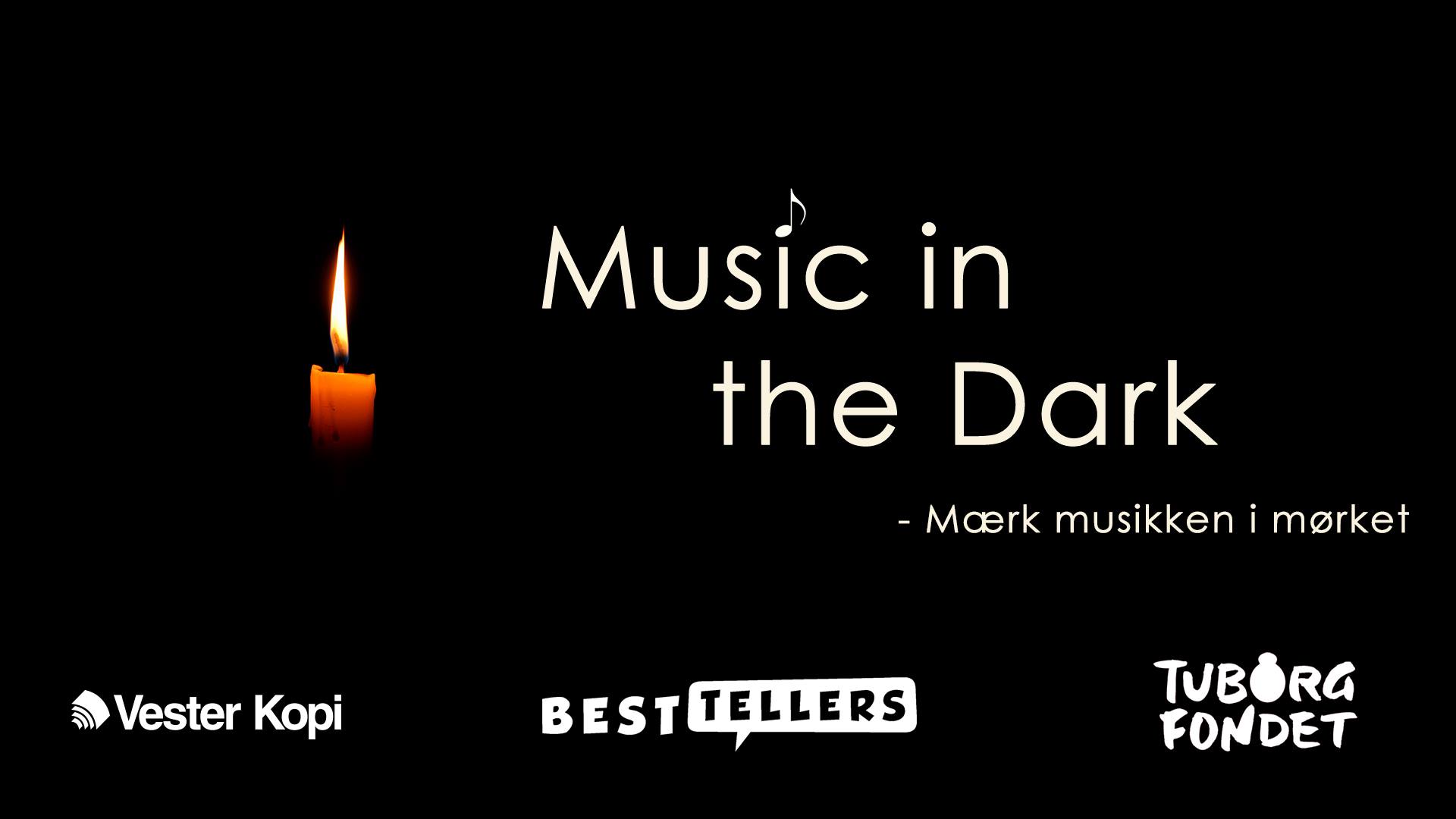 ---
03.09.2018
Coming Up!
We look forward to see a lot of familiar faces when we return to Fyn on September 20th at Ringe Kirke @ 19.30. This is the first time on Fyn since 2013. We also look forward to go to Malling Kirke on September 30th @ 19.30.
---
18.07.2018
Ubuntu (World Edition) out now!
We are pleased to announce the release of a new single "Ubuntu - (World Edition)" together with a Music Video.

Ubuntusong is an international choral collaboration promoting cross cultural understanding through the notion of Ubuntu. The music video features choirs from Denmark, South Africa, Brazil, Indonesia and Australia as well as singers representing Norway, Sweden, Finland, France, Germany, Italy, Hungary, Switzerland, The Netherlands, Latvia and Faroe Islands.
Read more on
www.ubuntusong.com
---
24.06.2018
RAMA Vocal Center Summer Camp 2018
Dopplers will participate in the Summer Camp for Rythmical Vocal Music at Aalborg Universitet together with teachers and students from all over the world
We are very proud to be part of this project, to inspire future choir leaders and be part of the vocal community.
The teachers this year will be Jim Daus, Peder Karlsson, Jesper Holm, Malene Rigtrup, and Guest Teachers RoxorLoops, Astrid Vang-Pedersen, Jesper Falck, Merzi Rajala and Merel Martens
---
02.06.2018
New EP is OUT!
Dopplers is forever grateful for the support from people all over the world. Our newest release "Colors of Peace" is now out on Spotify, iTunes and can of course also be bought directly from our shop.
Please go take a listen, and let us know if you like it.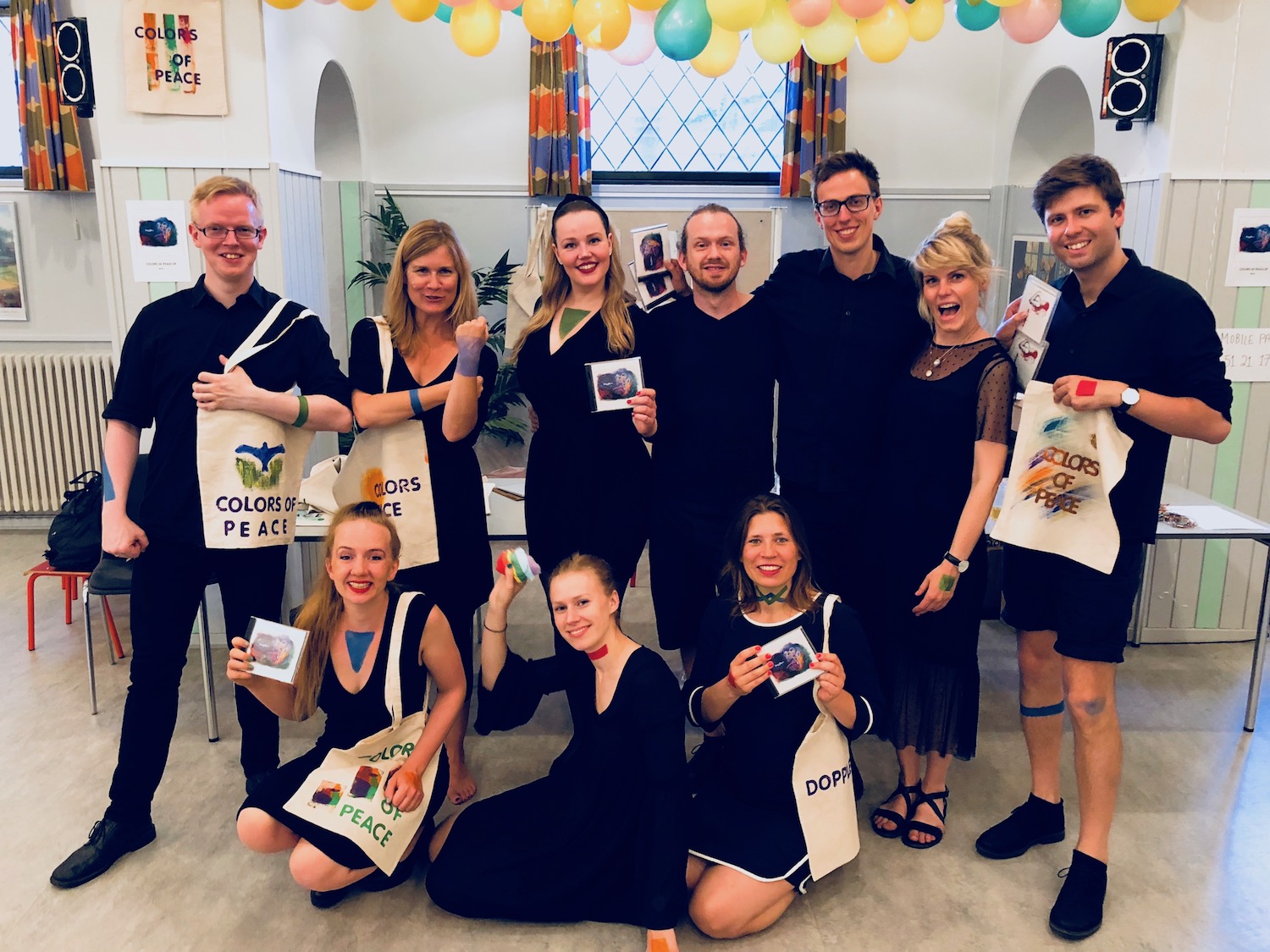 ---
20.05.2018
Dopplers to release new EP
Dopplers new EP "Colors of Peace" will be available from June 2, 2018.
Dopplers will celebrate with a EP release-event held in Valby, Copenhagen on June 2nd. Please see more here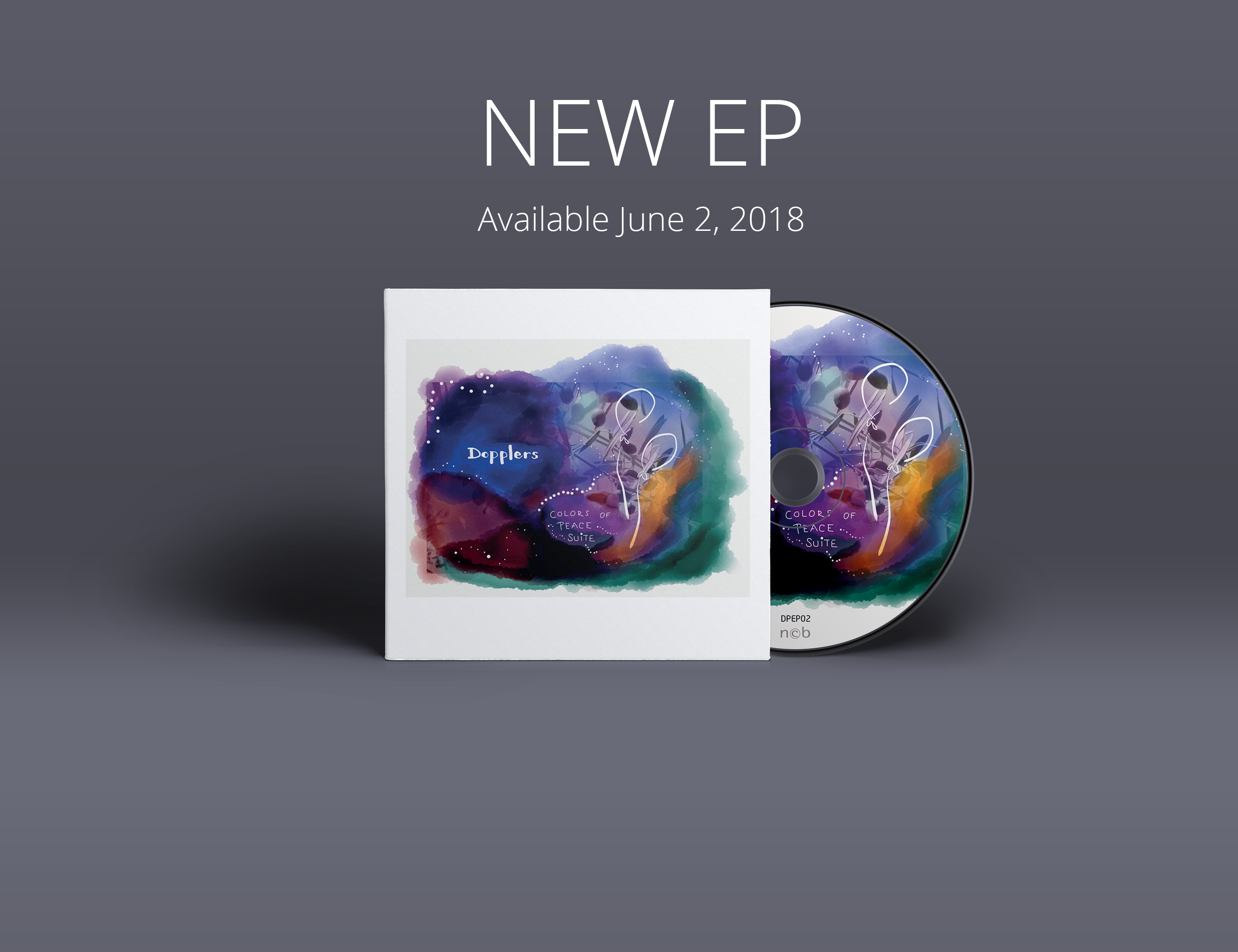 ---
1.02.2018
Dopplers in the newspaper
Thank you for the kind words in Midtvendsyssel Lokalavis.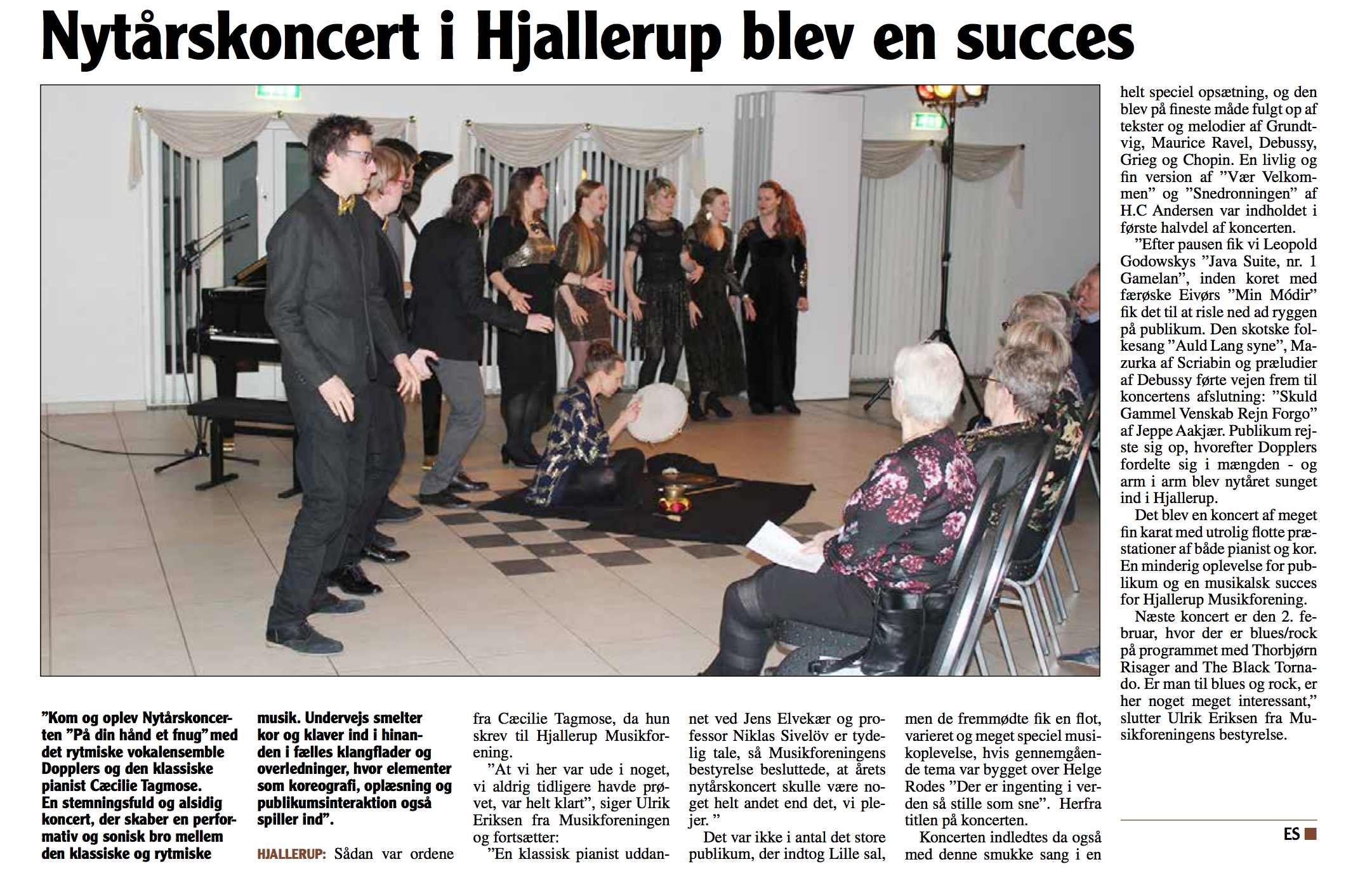 ---
22.01.2018
Dopplers in the studio
Dopplers finally started recording their upcoming EP Colors of Peace at Corona Studios in Aarhus. We won't have everything recorded now, but will follow up later with the goal of releasing the EP around summertime.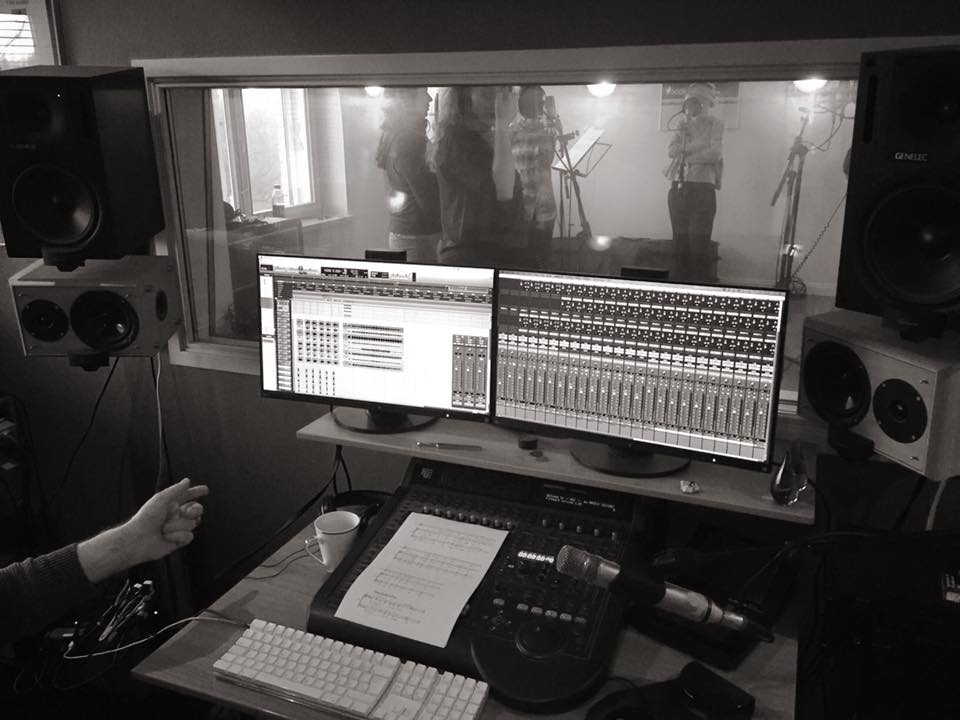 ---
16.12.2017
Dopplers is beyond words
We are just beyond words. It almost feels impossible to think we have so many wonderful people around us, who has supported us for so many years. This crowdfunding campaign just showed us, how grateful we should be. And we are. And with all your help it is possible for us to finally get back to the studio to record our next project "Colors of Peace".

Follow us on Instagram and Facebook for more.

Merry Christmas to all!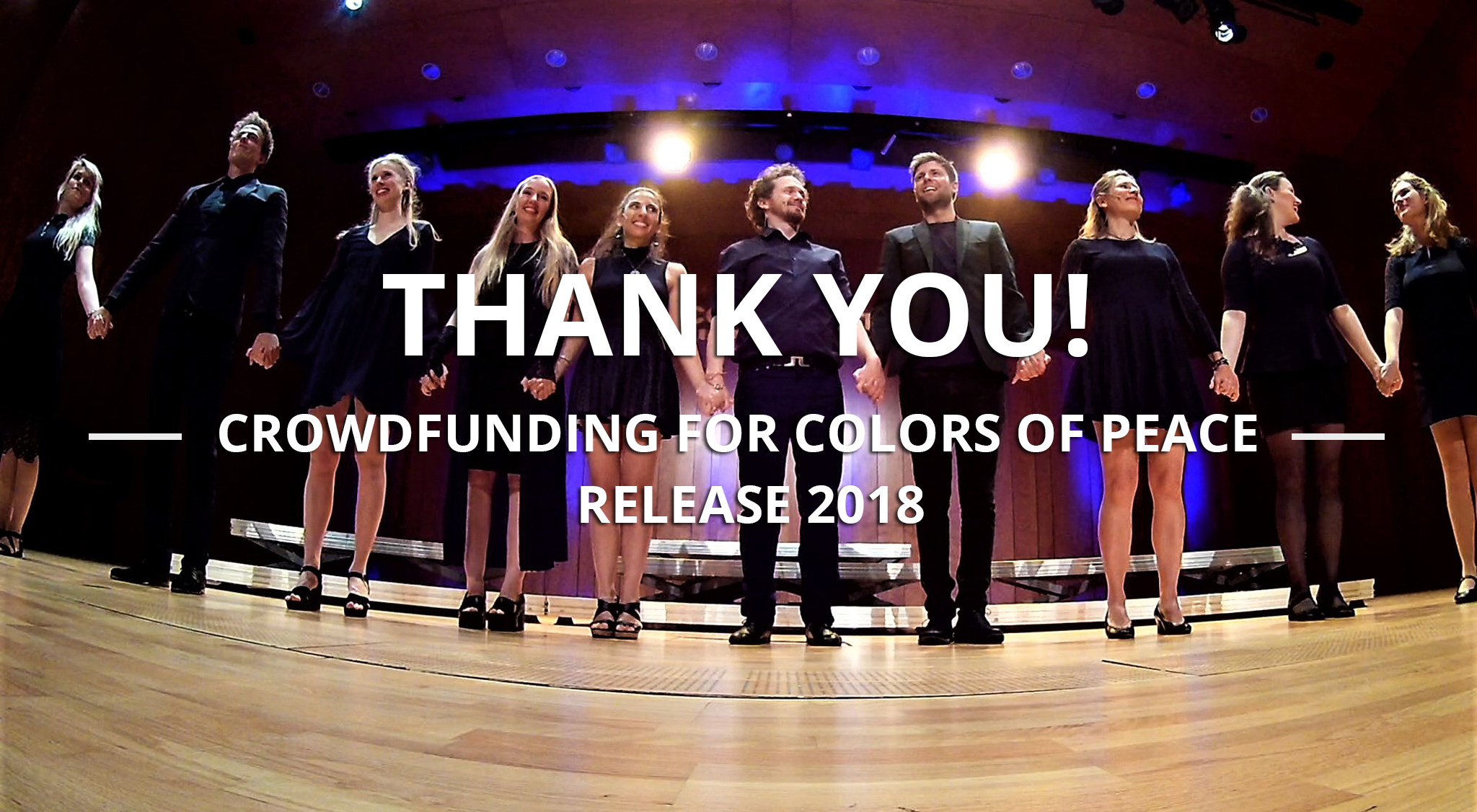 ---
15.11.2017
Dopplers to crowdfund next EP!
The project
In January 2018 Dopplers is going to record their upcoming EP "Colors of Peace". Once again we have teamed up with Henrik Birk Aaboe who also recorded our previous EP in 2015. Henrik is one of the best producers of a cappella music in the country and we are very proud to work with him again.

"Sleep" - Childhood for children
Text & Music: Kasper Borchersen

"Eagle Flying High" - Greater perspective
Text & Music: Jasmin Rose Patel

"Ubuntu" - We are all connected
Text: Astrid Vang-Pedersen - Music: Kasper Borchersen og Astrid Vang-Pedersen

"Min Modir" - The planet, our mother Earth, from here I venture, to you I will return
Text & Music: Eivør - Arrangement: Jim Daus Hjernøe

"Colors of Peace" - We are all responsible
Text & Music: Astrid Vang-Pedersen
The group
Dopplers, which was founded by Astrid Vang-Pedersen in 2009, is an a cappella group of 11 singers from Copenhagen, Denmark. In January 2015 Dopplers released their very first EP featuring music written and/or arranged by members of the group.
The goal
Our goal is to raise DKK 25,000. The funds will be used to record, mix and master our upcoming EP "Colors of Peace".

Read more!
---
20.08.2017
Thank you!
Barcelona - thank you so much for your warm welcome at the Symposium on Choral Music. We met so many kind people, we had three wonderful concerts, and we made dreams come true. We have a lot of new friends and hopefully a lot of exciting things to tell you all about in the coming future.
You can as always follow our Facebook page for recent news.
---
17.07.2017
World Symposium on Choral Music
Dopplers will attend the World Symposium on Choral Music in the days 22nd till 26th of July 2017. Dopplers has been invited by the Symposium and we are very humbled an honoured to be part of this amazing event. Dopplers will sing three concerts while in Barcelona.

July 23rd - L'Auditori
July 24th - Jadins Caixa de Sabadell
July 25th - Gran Teatre del Liceu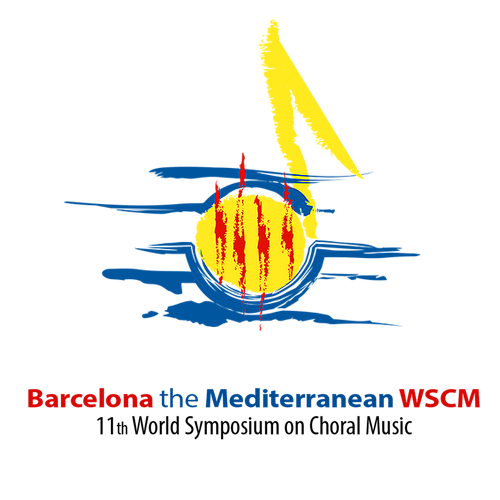 ---
03.06.2017
World of Yesterdays - Official Music Video Out Now!
---
27.05.2017
Min Modir performed by Dopplers
---
17.05.2017
Dopplers to perform at AAVF2017
We are so excited to finally be back at Aarhus Vocal Festival 2017, when we hit the stage in the Foyer of Musikhuset on Monday the 5th of June. We encourage everyone to participate in the festival to support the community and the great people behind the festival.

AAVF is a community-driven vocal festival with a lot of volunteers. It's being held every second year in the city of Aarhus, and Dopplers have participated for the last three festivals. Back in 2013 we were competing in the Choir-category. In 2015 we competed in the Vocal Group-category and was awarded with "Most Innovative Performance" and a 2nd Place. This year we'll be back to perform at the festival.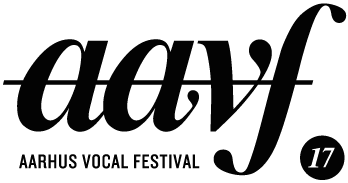 ---
28.04.2017
Join us in Copenhagen at LiteraturHaus
On the 12th of May we'll host a concert at LiteraturHaus in Copenhagen. We want to invite everyone interested in choral music for a special evening in the theme of "Colors of Peace". As a fundraiser concert, all leftover funds will go to supporting the groups travel expenses traveling to Barcelona in July.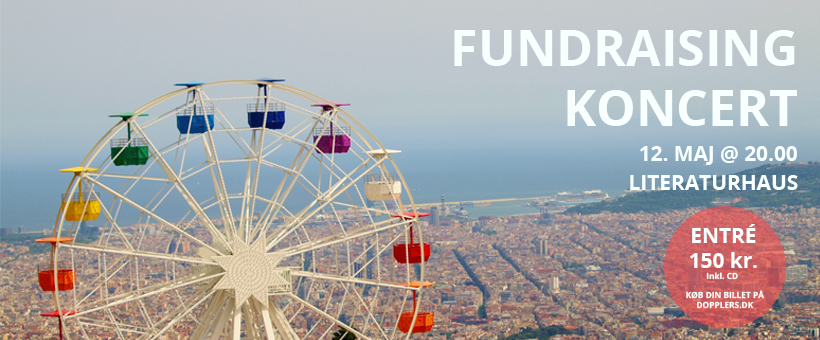 ---
04.01.2017
2017 is an exciting year for Dopplers
2017 has barely begun, and we already have a lot of exciting news to tell you all about. We will start the year off by playing our very first concert with pianist Cæcilie Tagmose. This is a brand new concept where we want different worlds to meet - the classical and the rythmical. We are super excited to play our first concert with Cæcilie in Lundtofte Kirke on the 18th of January. During the summer we will have a lot of exciting things on the programme, and we have decided to use the first few months of the year preparing. Hopefully we see you out there.
---
08.10.2016
Concert at KU Alumni
Dopplers did a concert at The University of Copenhagen Alumni event the 8th of October 2016. This was at an amazing concertvenue, in front of a beautiful crowd of old or new students from the University.

This was also very special for us, since many of us has attended the University studying Musicology. It felt a bit like coming home.

Here is a picture from the day.

---
19.08.2016
Autumn is upon us
We have a quite exciting last half of 2016 ahead of us. During the summer we have recharged our batteries, and we couldn't be more happy to be on the road again.

We have a small tour in Jutland in september. Catch us in Viborg and Holstebro. In november we have a double concert with Rockkoret (Copenhagen), and in December we have two christmas concerts. But what we really are working on, is to prepare for the big events coming up in 2017. Follow us on Facebook for all updates regarding Dopplers.
---
3.4.2016
Announcement: Dopplers to attend World Symposium on Choral Music
We are very excited to announce, that Dopplers has been invited to attend the World Symposium on Choral Music in July 2017 in Barcelona with singers from all over the world. The theme this year is "The Colors of Peace". This is very special for us, and we are thrilled to be joining this event, and visit the beautiful city of Barcelona in the summer. The preparations has already begun, and we'll update when we get closer!
---
11.02.2016
Upcoming Concerts in the spring 2016
We hope to see you out there for the upcoming concerts. Next month, the 17th of March, we'll return to Johanneskirken in Greve, for a springconcert. In April we have at least two concerts - In Holstebro, for the first time 3rd and 4th of april, and in Brønshøj Kirke on the 17th of April.

Check the upcoming concerts here
---
9.12.2015
We now have a promo-video
Back in september, we sang and filmed the concert at Kulturstationen Vanløse. We have now edited the video, and we are ready to show the world who we are. Please feel free to share this video, if you would like us to come to your town. Thank you!
---
14.09.2015
Thank you for joining us!
Thank you for joining us the last couple of weeks. We had the pleasure of sharing the stage with POSTYR at Kulturstationen Vanløse September 6th. The weekend after, we did two concerts in Jylland. We sang for the RAMA-students in Klassisk Sal, Musikkens Hus Aalborg September 12th, and then in Lystrup Kirke north of Aarhus September 13th. Follow us on Facebook for more updates.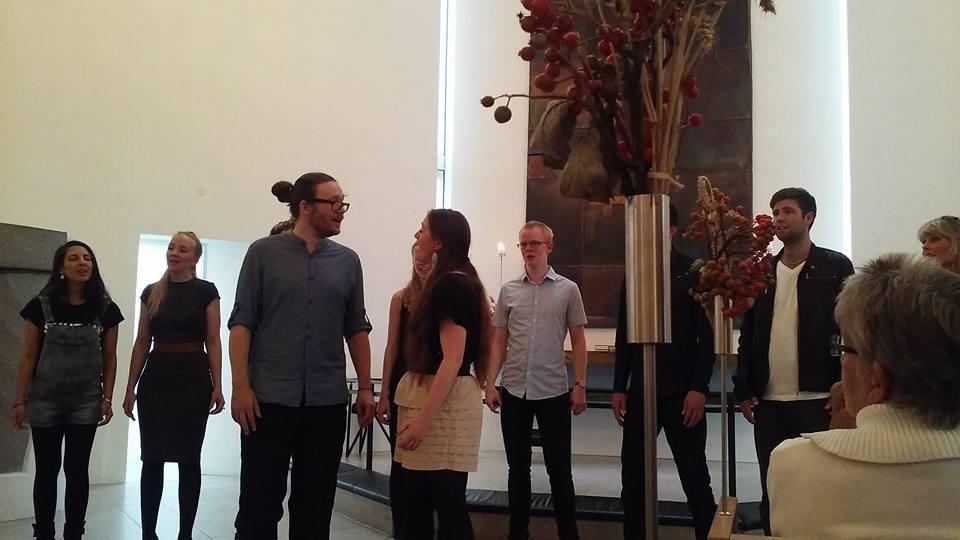 ---
17.08.2015
Concert with Dopplers and POSTYR
Dopplers and Postyr will give a concert at Kulturstationen Vanløse September 6th 2015 at 19.00. Dopplers will present "1001 forms of love", which is a concept that will explore all the facets of love. POSTYR will release their new CD "Paper Tiger" and promote it. This will be an evening with vocal music at it's best, and Dopplers look forward to share the stage with the world known POSTYR from Aarhus.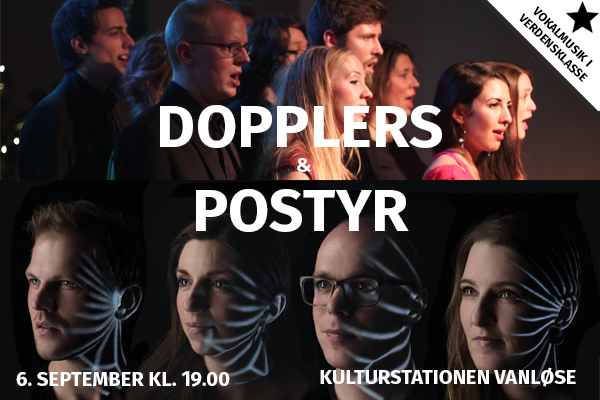 ---
08.08.2015
Å Capella Camp 2015
We in Dopplers are very excited about attending the Å Capella Camp at Åland (Finland) this summer. The Å Capella Camp is a vocal festival arranged by the vocal group The Real Group. We are looking very much forward to be working with some of the best vocal groups in the world, and also to get the opportunity to participate in different workshops and coaching sessions with amazing and inspiring members from both Rajaton and The Real Group. Hopefully, this is going to give us new inspiration to further songwriting and maybe some new friends from other choirs around the world.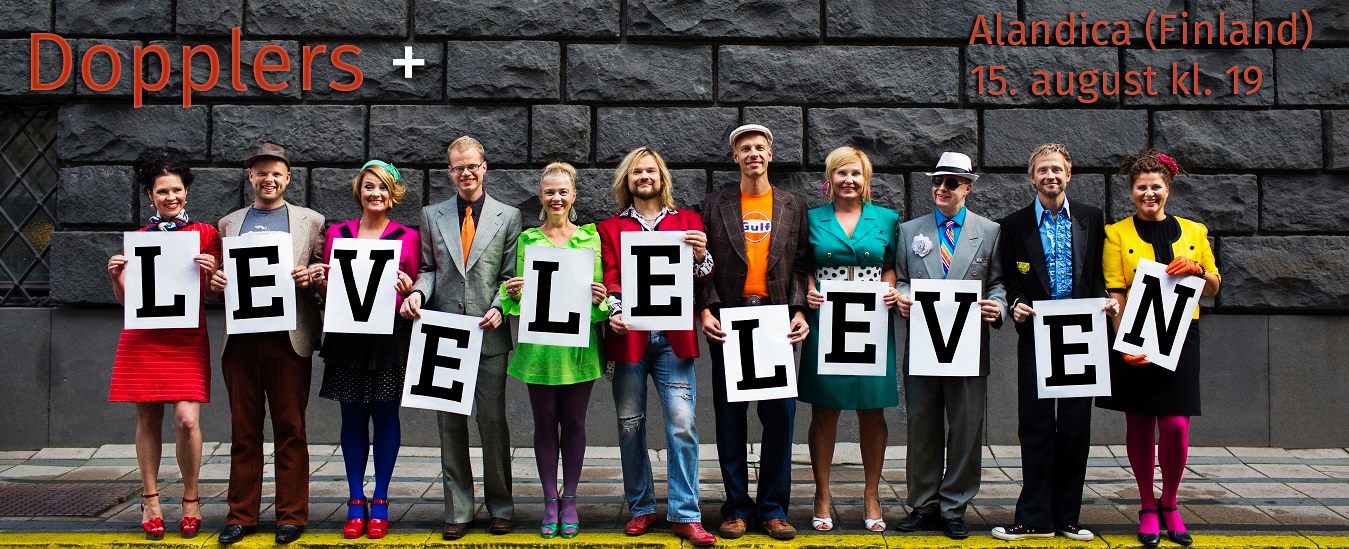 ---
21.06.2015
Dopplers in Lyngby
Dopplers had a wonderful day in Lyngby Saturday the 13th of June. Baadfarten in Lyngby had invited us to sing on their boat yet another time - this is almost a tradition - and they call the event "Sang på vandet". It's always a wonderful time on the lakes around Lyngby. We then had a pop-up concert at Lyngby Kulturhus, and then ended the day in Charlotte's beautiful garden, next to Lyngby Sø.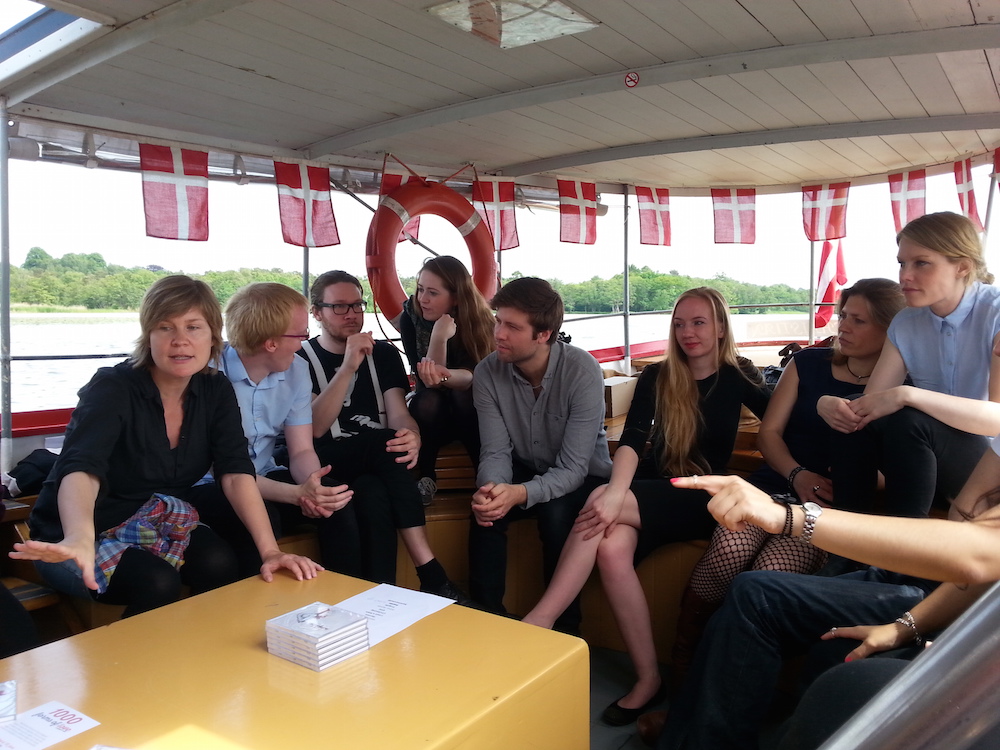 ---
25.05.2015
Winner of "most innovative performance" and the 2nd prize in the choir competition af AAVF 2015

We are so very proud to announce that the vocal group Dopplers won a price at the prestigious competition at AAVF 2015, and also took home 10.000 DKK for the 2nd prize in the choir competition. Dopplers competed against 5 other choirs from Germany, Israel, The Netherlands and Denmark, and took home the "most innovative performance"-prize. We are very proud to be receiving this price, because we work hard to make every show special.

Dopplers competed in the competition sunday afternoon, and the prizes were announced sunday night. More details will follow...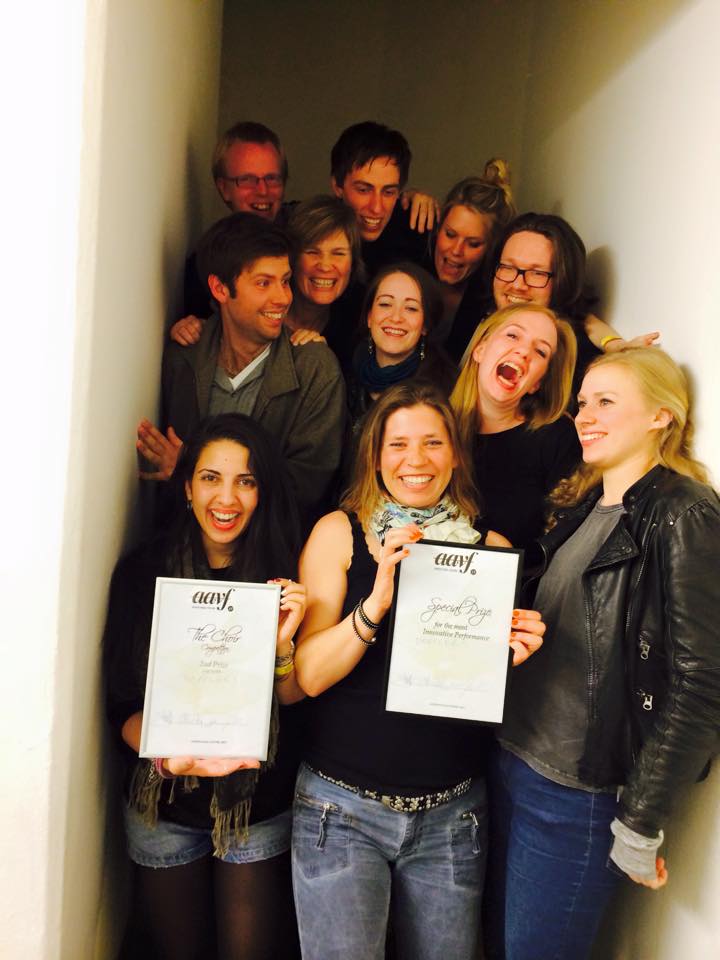 ---
13.05.2015
AAVF is almost here

We are looking so much forward to finally be back at AAVF. AAVF is such a wonderful festival and it really blew us away two years ago. This year we hope to win the competition, but we will also have our own little concert, saturday at 1:15PM at Kammermusiksalen. We hope to see a lot of you there, because we will do a very speciel show for you - something you won't see at other concerts at AAVF 2015.

Sunday it's time for the competition. As far as the information we have, it's free to go see the competition.
---
25.03.2015
5 stars in danish music magazine Gaffa
5 stars - that is not something you get everyday.
That is the very case with Dopplers new EP in a review in the Danish music magazine Gaffa. We are of course thrilled to be announced "Demo of the Month" with a headlining picture and text. This is a widely spread magazine that a lot of people will see over the coming weeks or so, and we hope good things follow along with such a positive review.

Read review here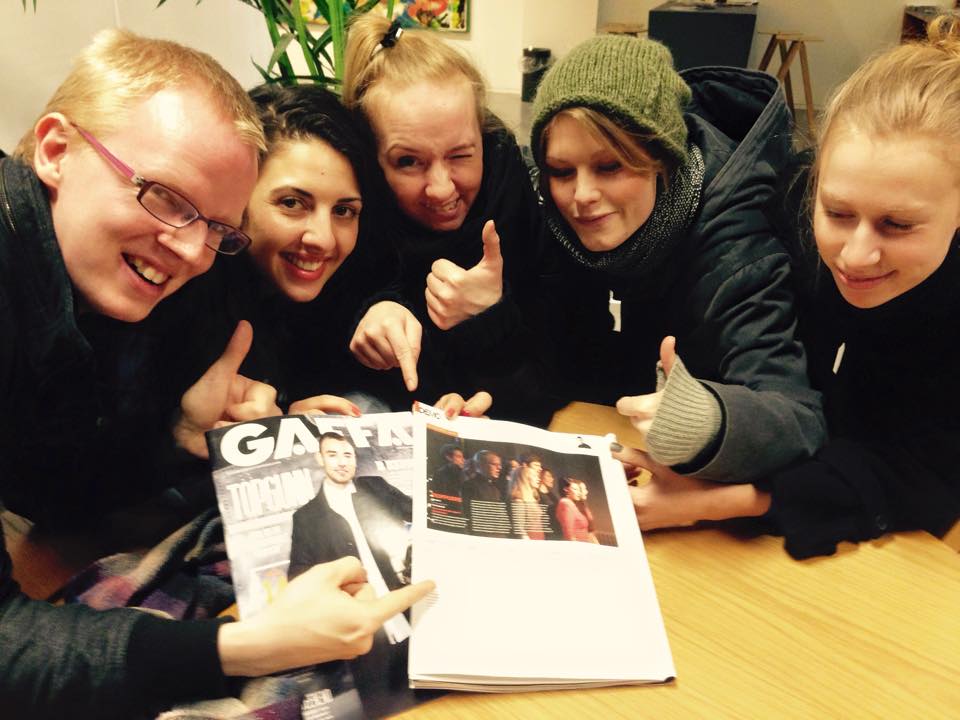 ---
06.03.2015
Dopplers to compete at AAVF 2015
Dopplers is very proud to announce they have been chosen to compete in the International Choir competition at Aarhus Vocal Festival 2015 in Aarhus the 22-25th of May 2015.
This is the second time Dopplers will be in the competition.

AAVF is one of the biggest vocal festivals in Europe, and we are therefore thrilled to be a part of this amazing festival. Among the concerts we'll get to hear will be Vocal Line, The Swingle Singers, Zap Mama and Arora.

We look forward to seeing you in Aarhus.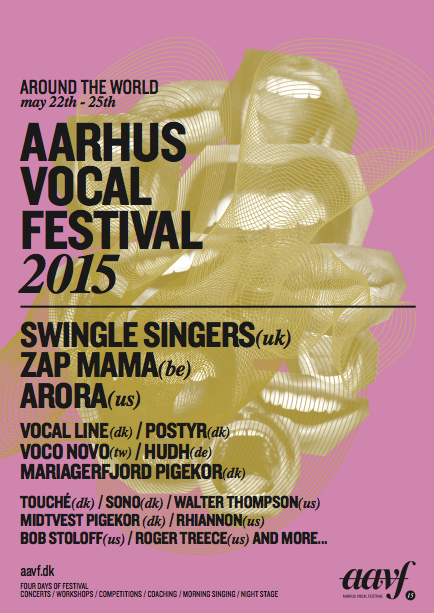 ---
23.01.2015
Porkolicious
Dopplers is featuring in the short-movie Porkolicious which is a movie from the The National Film School of Denmark.
Dopplers sang 2 songs.


The Poster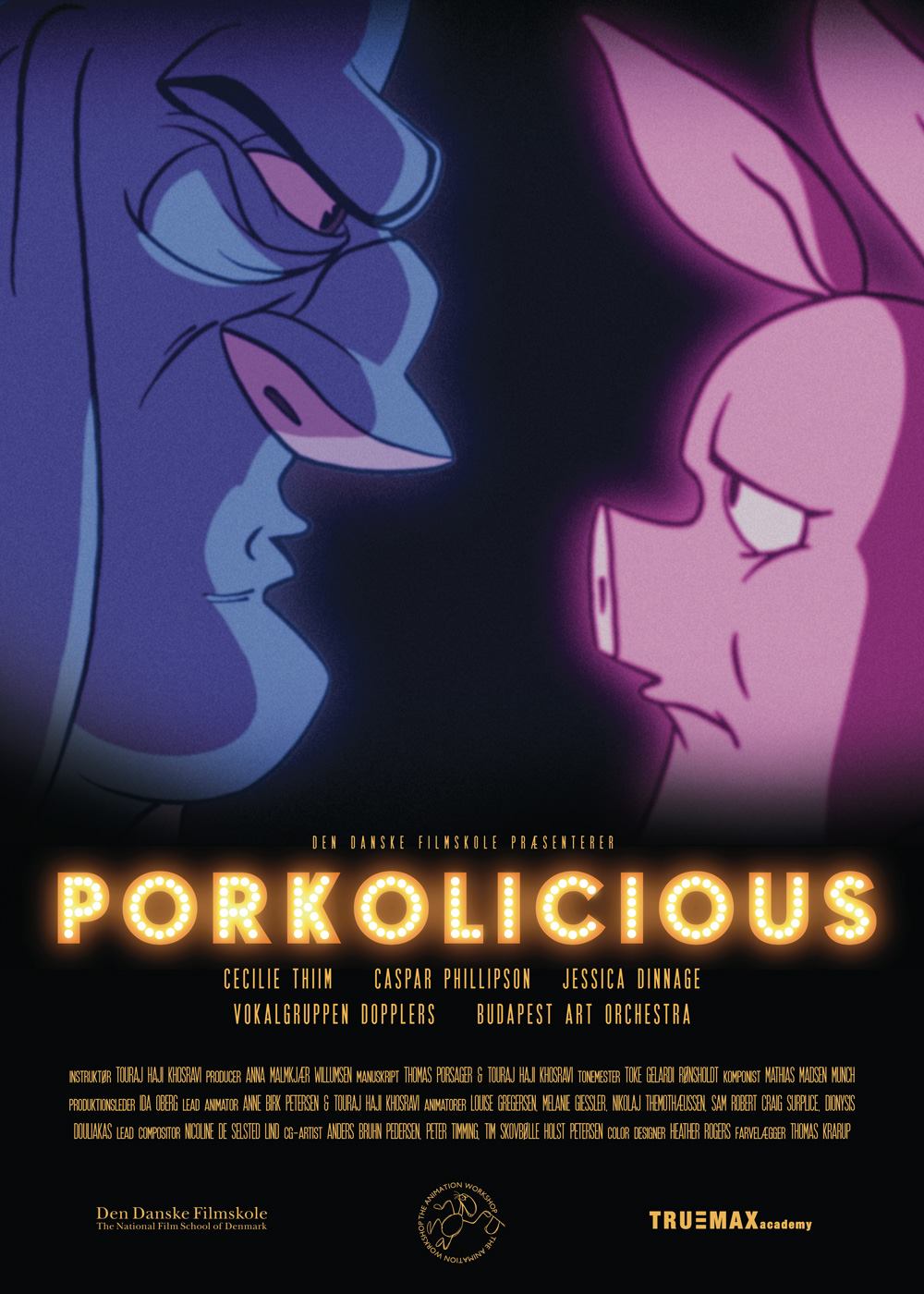 ---
24.10.2014
Dopplers and Anders Edenroth
Dopplers spend a whole day in Stockholm with Anders Edenroth, singer in and founder of the internationally acclaimed swedish vocal group The Real Group who gave a workshop!

It was a truly inspirational day, and has led to a partnership with Anders and Katarina Henryson on the fourthcoming EP. The visit has also resulted in Dopplers to participate in the Å Capella Camp 2015 in Åland together with numerous other vocal groups, and Rajaton and The Real Group better known as L E V E L E L E V E N.